Writings, Thoughts and Reflections from my Dad
| | | |
| --- | --- | --- |
| | <-- From 1982 to 1992 --> | |

	Look At Us

	Look at us, after all these years together.
	Look at us, after all that we've been through.
	Look at us, still leaning on each other.
	If you want to see how true love should be,
	Then just look at us.

	Look at you, still pretty as a picture.
	Look at me, still crazy over you.
	Look at us, still believing in forever.
	If you want to see how true love should be,
	Then just look at us.

	In a hundred years from now
	I know without a doubt.
	They'll all look back and wonder how
	We made it all work out.

	Chance are we'll go down in history.
	When they want to see how true love should be,
	They'll just look at us.

	Song written and recorded by Vince Gill, 1991.



Parents of Barb Phillips, Lila Ashby, Arlyn Fisk and Stan Fisk
Grandparents of
too many to enumerate
Great Grandparents of
also too many to enumerate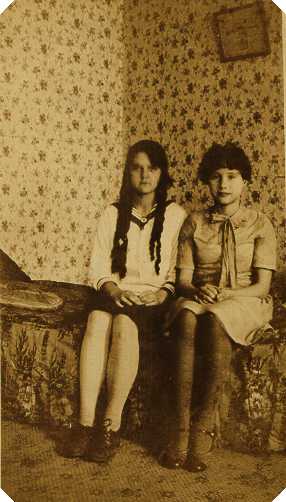 Kenneth Edward Fisk, born June 28, 1909 and Marie Louise Amelia Sophie Gerberding, born February 14, 1912 were married on May 29, 1932. Ken was raised in Percy, Illinois and Marie in neighboring Steeleville. They lived in Percy on the main highway in town, Route 4, which was called the "hard road" by us kids. My father worked at the Steeleville Shoe Factory for 32 years before it closed its' doors in 1961 or '62. My mother was a typical housewife of the times, raising four kids and maintaining the household chores until she started a working career after the Shoe factory closed by working as an aide in the Sparta Nursing Home. By this time three of their four kids were married and on their own, leaving only me living at home.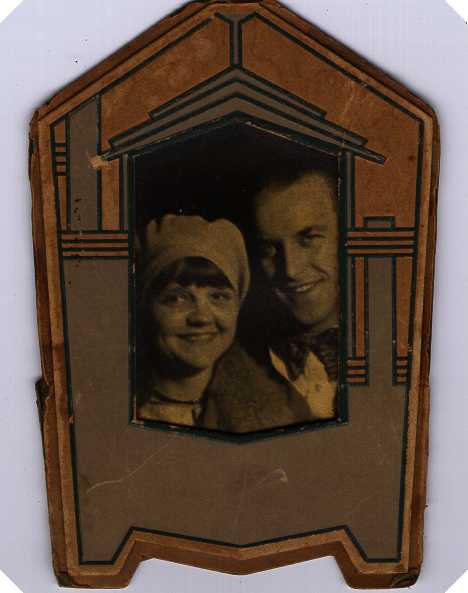 My father always had hobbies which would bring in extra income including bicycle repair, lown mower blade sharpening and experimenting with chemicals. He also maintained a vigorous writing habit, but when he found himself out of a job he decided to try his hand at chemical experiments. So he journeyed alone to stay with a friend of his in Texas to jointly try to figure out a way to make money doing something they both enjoyed. It didn't work out so well. So in the fall of 1962 he called upon another long time friend, Charles Benson, who was living in Aurora, Illinois and he helped find my dad a job at a steel fabrication plant. In January 1963 my mother and I moved to Aurora where dad had already rented an apartment and we began a more financially prosperous life than was known in Percy. The move was a good one for both my parents and my mother started a 15 year career of being a Dietary Aide at Copley Memorial Hospital while dad put in 15 years crafting metal at Mississippi Valley Structural Steel and I began an adjustment period to big city life and schools. Only a year later came the JFK Assassination, the British Invasion and the Great Society. The easy-going, tranquil lifestyle that we knew in the small, coal-mining area of Southern Illinois was gone forever.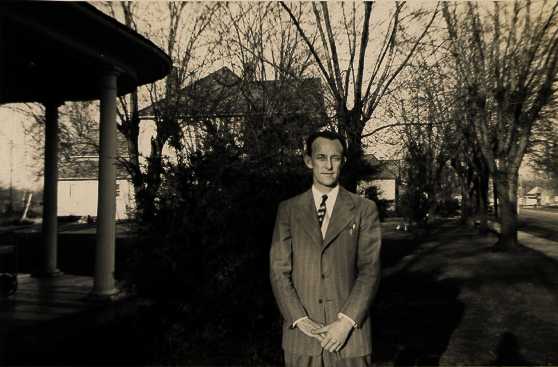 Ken and Marie retired from working life in 1977, sold their Aurora home and moved to Winter Garden, Florida where they enjoyed their retirement years together. They did quite a bit of travelling during their early retirement years, they had always loved to travel and experience new places. I believe I owe my sense of vacation adventure to the many long car trips we took together as a family. Even though we just barely got by financially, my parents managed to find a way to go on these trips that taught me so much and brought us closer together through shared experiences. One of their trips after retirement was their second trip to Hawaii while I was stationed at Peral Harbor in the Navy. They spent an entire month over the Christmas Holidays with me and made for a very special Hawaiian Holiday indeed. There are just so many memories with my parents that I hold dear to my heart that I cannot beging to describe them all. And those memories are all that any of us have left now since my mother quietly passed away on August 30, 1999 at home in her own bedroom with her husband and her two daughters by her side. I love you dad and mom and thank God for giving me two such wonderful, patient, kind, loving, caring parents. You are excellent role models, true to your beliefs and are a blessing to this upside-down world.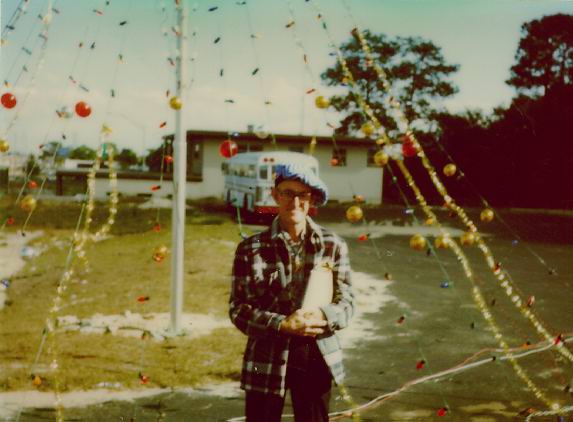 So, does my hat go with the local decorations or not?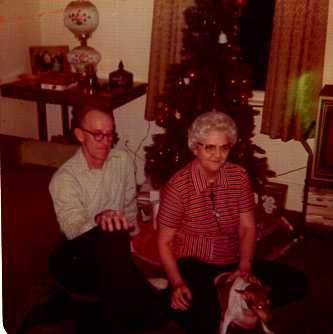 Mom, dad and Terry at Christmas in Aurora, mid-late 1970's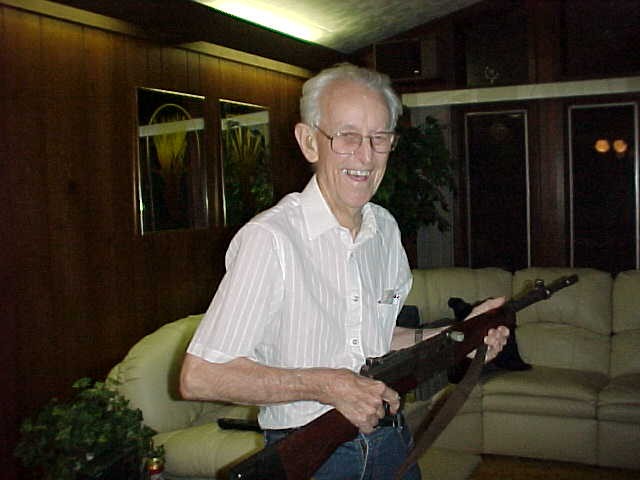 Dad holding one of Arlyn's guns, summer 2001 in Percy