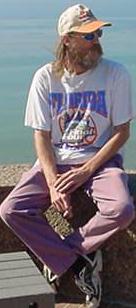 This page is reserved for the poetically inclined among us who wish to see their poems in print on the web. We get this page started with two poems contributed by Lila and Arlyn written during the time of our mom's first birthday since her passing from this earth. Arlyn took the perspective of our father being without his loving wife, while Lila slanted her thoughts toward our mother's favorite living room chair. Lila's second contribution was written on the one year anniversary of our mother's passing. Next, my dad, Kenneth Fisk contributes some of his inspirational poems. The first one,
When Flowers are Best
, is also posted at www.poetry.com where he submitted it for competition. The others are in their first run right here. Next is a newcomer to the poetry scene, my great-niece, Reva Ashby from Steeleville, Illinois. I expect to see more of her poems in here as time goes by. Then comes some of my contributions. Poetry had never been a specialty of mine but when I was younger I found myself having certain poetic thoughts, many of these inspired by a female. The November and December, 1978 poems were all about a young lady whom I fell head over heels in love with in San Diego once I finally came to the realization that things between Sue and I were over. Shelley, if you ever happen to read any of this, please send me an
e-mail
and tell me how you are doing these days. I hope you enjoy our family's literary prowess.
---
Lila Ashby
Mom
August 30, 2000
A Star Named Marie
Killer Purse
Red Hat Lady
---
Arlyn Fisk
Dear Dad
---
Kenneth Fisk
When Flowers are Best
He Walks and Talks With Me
Trusting Faith
Senior Citizens Ode
Neighbors
Chipped Off the Old Block
Summer Food Treats
92
Senior Citizens
Children
Labor Day
Lila
Old Bin Laden
To Arlyn
The Bensons
93
Ultimate Peace
---
Reva Ashby
Strange Creature
9-11
---
Stan Fisk
I Am, or Am I?
Inspired
The "Wait"ress
When I Think About You
Someday
---
Favorite works by published authors, known and unknown.
If - by Rudyard Kipling
A Poem for Computer Users Over 40 - Author Unknown
Old Time Radio Stars - The Two Black Crows - Comedy Bits - Mack and Moran